While often overlooked next to its touristic neighbors Morocco and Tunisia, Algeria is a country with an incredible history and culture that deserves notice. Although many people might not be able to locate it on the map, it is actually the largest country in Africa. You literally can't miss it. 😉
Algeria's delicious cuisine is influenced by various culinary traditions. The Arab and Amazigh cultures within Algeria are some of the strongest influences. Turkish and French cultures influence the food as well. You may recognize some foods that are popular across the entire Middle East/North African region, while others are unique to Algeria. In the end, Algerian foods are as rich and colorful as the country's history and their quality ingredients. Whether you're traveling to Algeria or looking for a new recipe to try at home, here are five famous Algerian foods that you are sure to enjoy.
Couscous
This wouldn't be a list of Algerian foods without the country's most iconic dish: couscous. There is a debate between Algerians and Moroccans over the dish's origins but regardless, we can appreciate the dish. Not only is it a food that is integral to Algeria's culture, but Algeria, Morocco, Tunisia, and Mauritania also came together in 2019 in a successful effort to get couscous recognized by UNESCO for intangible cultural heritage status. Couscous has experienced success on the world stage, too. For example, in France, a country with a large population of North African heritage, couscous is so popular that it has become part of French cuisine. You can enjoy a couscous royale with various meats, a vegetarian couscous with tender vegetables and sauce flavored with tomato paste and spices, or put your own twist on it!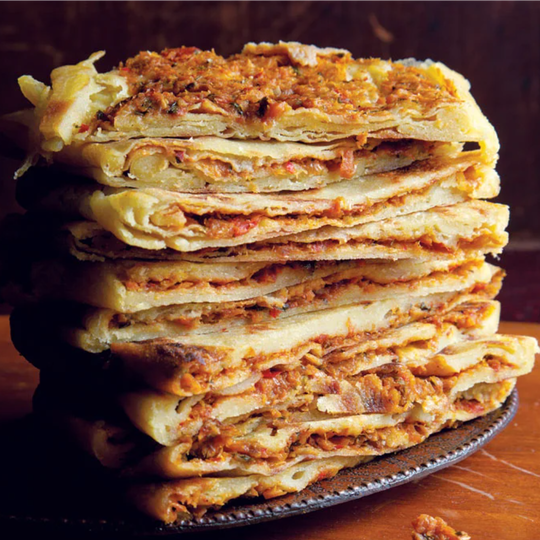 Mhajeb
Mhajeb is a thin flatbread made of semolina and filled with spiced tomatoes, garlic, and onions. If you are a fan of street food, this is one you can look forward to eating in Algeria. The dish is a great example of how many Algerian foods are not overly complicated, relying on a few key ingredients to bring incredible flavor. As you'll notice on this list, fresh vegetables and a few spices are key. And though Algerian food isn't known for being very spicy, you can eat mhajeb with harissa for an extra kick.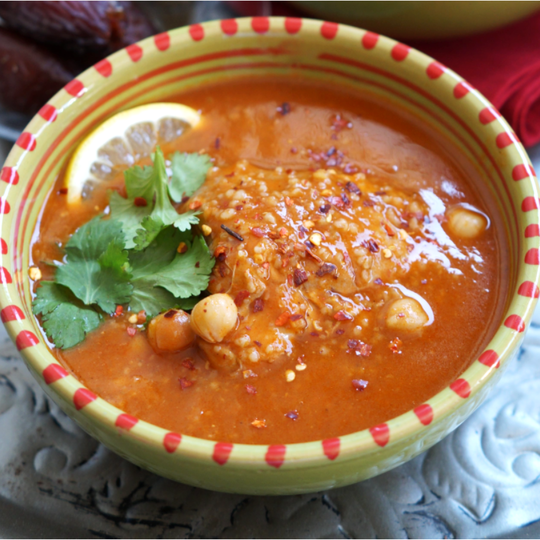 Chorba
Most cultures' culinary repertoires include a comforting soup and Algeria is no different. Chorba comes from the word to drink (chareb or شرب ). It's a soup made with meat, vegetables, chickpeas, and cilantro. Cilantro is so important to the soup's flavor, it is referred to as the chorba's herb in Algeria. Another component, which varies depending on taste and region, is the grain or pasta. For example, it can be made with vermicelli or "freek " which is a type of cracked wheat. Chorba is often eaten with bourek, a roll of thin, crispy pastry filled with meat, herbs, and sometimes cheese, then fried. They resemble Vietnamese spring rolls. Families often prepare this during Ramadan, but it is comforting at any time of the year.
Chakchouka
Chakchouka (also spelled as "shakshuka"), means "all mixed up" and reflects the way this filling dish is made from mixing and shaking a few ingredients in a pan. It mainly includes tomatoes, onions, peppers, and eggs, but you can include meat and extra spices depending on your taste. Not only is it a staple dish across North Africa, but it's also now a popular brunch item in the U.S. Don't let its status as a fancy brunch dish fool you though. Its humble origins go back to it being an affordable yet satisfying dish for immigrants. This dish shows how Algerian foods exemplify the healthy nature of the Mediterranean diet: lots of vegetables and lots of flavor! It's healthy for the body and for the soul.
Qalb El Louz
Of course, we've saved dessert for last. Like many desserts in the Middle East and North Africa, this is not sweetened with pure sugar, chocolate, or icing. Instead, honey or sugar syrup provide the sweetness. It can also be flavored with orange blossom water, another popular ingredient in Algerian desserts. Its name in Arabic translates to "heart of almonds" as the filling is made with a lot of almonds and semolina. You'll also notice an almond at the heart of each piece, a simple but recognizable decoration for this dessert. It is commonly consumed with coffee or mint tea, two iconic beverages in Algeria. But of course, the best way to enjoy it is to share it with your loved ones, as Algerian culture is all about community.